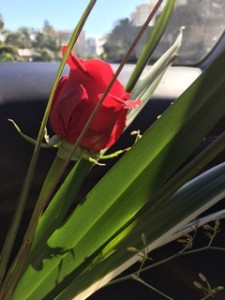 Each day is filled with little miracles.
Yesterday, while we were having lunch in an oceanside restaurant, a German lady dressed in flowing and colorful clothes, laid two roses on the floor by my chair, hurriedly told us to guard them and then ran off as we looked on a little bewildered.
She returned within a few minutes, laid one of the roses on the table by my plate and told us how she took them from an arrangement because the roses were not tended the way she thought they should be.
She ran off again returning a little while later handing me an arrangement of greenery she picked on the premises of the restaurant to add to my rose.
After lunch, I walked through the restaurant on the way to our car proudly carrying my bouquet with women envying me love for the symbol of my rose and greenery while the staff most likely recognized where it all came from. I could have
asked "why me," but it is 2016 after all—
2016 will be year of small miracles and a shift in
energy. Do you feel it?