On March 9th, The Place at Center hosted the CNY branch of American Penwomen for a 4 hour yoga retreat.
We began with a centering/meditation, followed by energization exercises and gentle stretching.
We  focused on gently opening the second chakra (energy center)– the seat of our creativity.
We used color-orange blankets, some orange clothing, carnelian crystals.
We practiced pranayama (breath control) to bring more vitality (prana) into our bodies.
We chanted seed (bija) sounds to quiet the mind. We listened to water sounds to help creativity flow.
We experienced brass and crystal singing bowls to take in their sounds –all to bring vibration to the cellular level.
After lunch, we went into long restorative poses for deep relaxation to open and balance the sacral chakra and revitalize
the mind, body and spirit.
In the first photo, there is a bouquet of roses.  Each participant was given a rose upon arrival and asked to put it in the bouquet in the middle of the tealight mandala as an intention.  Upon completion of the retreat, each woman took a rose home as a remembrance of their intention.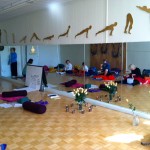 In this photo, we are practicing with singing bowls–brass and crystal. Everyone really enjoyed this.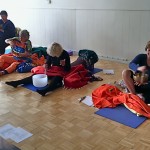 Here is another view.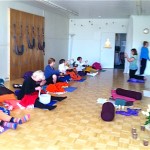 We practiced energization exercises, breath control, meditation,  asana (postures,)  deep relaxation, visualization. We passed around  polished carnelian (deep orange) stones to feel and hold. We played with  singing bowls, gong and tinkshas. Yoga was new to some of the participants so we used many tools to engage the senses, to help bring the mind, body and spirit into relaxation
It was nice to receive thank you notes following the retreat telling us how poetry and art flowed from the Penwomen's experience at The Place at Center.